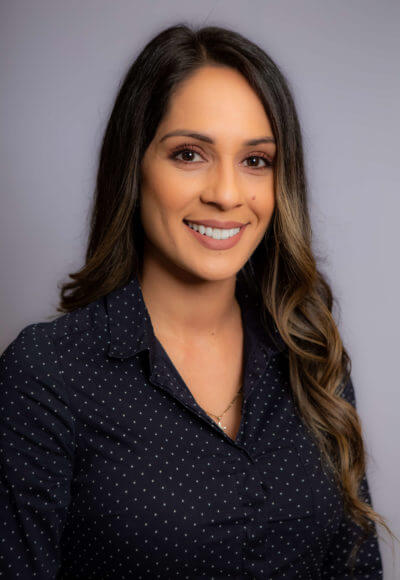 La Dra. Mónica Armendariz nació y creció en Turlock, California. Ella completó sus estudios de odontología en la Universidad de California en San Francisco. La pasión de ella siempre a sido regresar a el Valle Central para trabajar, debido a la gran necesidad de médicos que hablan español. La necesidad de dentistas bilingües fue la motivación de la Dra. Armendariz para lograr su carrera en odontología. Este deseo de cuidar a otros hispanos, y un pequeño accidente que involucró a su hermana menor y una pelota de croquet la llevaron a donde está hoy.
Cuando venga a visitarla, pregúntele sobre su experiencia inolvidable que tuvo cuando tenía 11 años y como su dentista le restauró su diente frontal. ¡Es toda una historia! Lo que más le gusta de la odontología es poder comunicarse con el paciente sobre sus necesidades y la atención medica que necesita. "No puedo explicar la alegría que recibo de educar a mis pacientes sobre su salud oral. Mi parte favorita del día es escuchar a un paciente decir 'Guau, nunca había tenido un dentista que me explique lo que necesito en tanto detalle'. Me lleno de emoción diariamente sabiendo que mi carrera me da la oportunidad de realmente hacer una diferencia en la vida de una persona", Dra. Armendáriz.
Dr. Monica Armendariz was born and raised in Turlock, CA. She completed her DDS degree at the University of California San Francisco. She was always passionate about returning to the Central Valley to work because of the need for Spanish speaking doctors. The need for bilingual dentists was a huge part of Dr. Armendariz's drive to accomplish her career in dentistry. This desire to care for other Hispanics, and a little accident that involved her younger sister and a croquet ball, brought her to where she is today. When you come in for a visit, ask her about the magic she experienced as an 11 year old with her dentist restoring her chipped front tooth. It's quite a story!
What Dr. Armendariz loves most about dentistry is being able to communicate with the patient about the care they need. "I can't explain the joy I get from educating my patients about their oral health. My favorite part of the day is hearing a patient say, 'Wow, I've never had a dentist explain something like this to me'. It makes me excited to come in to work everyday, because I know there is someone's life I will make a difference in." – Dr. Armendariz.