"If you're looking to straighten your teeth, ClearCorrect might be just the thing for you. ClearCorrect aligners are comfortable, removable, nearly invisible, and, best of all, they work without impacting your daily life. Eat what you want, brush and floss as usual, and get straighter teeth without anyone knowing you're in treatment—it's that simple." – ClearCorrect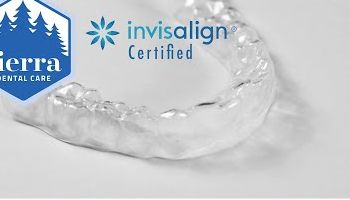 Invisalign and Clear Aligners at Sierra Dental Care
Everyone wants a beautiful smile, and we can help with that! As important as a beautiful smile is, you also want to make sure you have proper teeth alignment. This allows your teeth to function properly. We can help you get that beautiful smile AND make sure your teeth are functioning properly! We offer Clear Aligners! Clear Aligners are a perfect method to align your teeth safely and effectively. Clear aligners are popular because they are more discreet and convenient compared to traditional braces. With the tri-layer advanced ClearQuartz™ material via ClearCorrect, you'll get
the results you want with an aligner that fits comfortably – gently guiding your teeth into proper alignment. Most treatment cases are completed in less than 20 months! Unlike mail order aligners, a board certified orthodontist oversees your case to ensure best outcome both cosmetically and functionally.
Get Invisalign & Straighten Your Smile Without Metal Wires
Invisalign uses a series of clear aligners, no metal wires, and brackets, to straighten and have proper positioning of your adult teeth. Because the
aligners are practically invisible, many people won't even realize you're getting orthodontic treatment! That's a big benefit, but it's not the only one.
Your Invisalign aligners are also:
Comfortable: They are made of smooth, BPA-free plastic. There's no metal to irritate your cheeks or gums
Fast: Invisalign corrects your smile fast. In manby cases, you can complete your treatment in 12 months or less
Clear aligners vs traditional braces:
Comfortable
Effective
Easy
Invisible
Half the price of traditional braces
They're removable so you can still enjoy eating whatever you like! No need to worry about wires that trap food or get in the way when you floss.