As parents and caregivers, we naturally want to do what's best for our family. Making sure your family receives comprehensive dental treatment is a good way to show them you care. Family dentistry at Sierra Dental Care will help your whole bunch maintain healthy, bright smiles. Dental care from Dr. Marinello Manuel and our Modesto dental team will:
Dr. DeGuzman at Sierra Dental Care loves treating children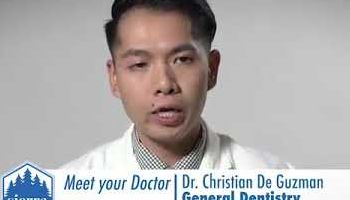 Help your family prevent tooth decay and disease.
Boost your kids' self-confidence with clean, healthy smiles.
Work around your busy schedule with convenient late evening and Saturday hours, as well as emergency appointments.
Give you reassurance that you're taking good care of your family's beautiful smiles and making informed decisions about their corrective or cosmetic dentistry procedures.
Call us today to schedule dental appointments for everyone: (209) 575-2400. Our office is located at 3801 Pelandale Ave., Suite B-9 in front of Costco.
We Take Family Dental Care to a New Level
A personal testimonial from Kim, a Sierra Dental Care hygienist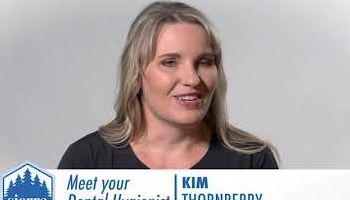 With our comprehensive range of dental services, you can make us your one family dentist. You'll save time and money without having to drive all over the area to different dentists. Our services include:
Pediatric dentistry to care for your little one's smile. Be sure to schedule their first dental appointment to get them started on a healthy smile for life with proper oral care.
Orthodontics to give you and your family beautiful straight smiles. Our board-certified orthodontist offers traditional braces, clear braces, and the innovative Invisalign system.
Implant dentistry to provide replacement tooth roots for several different types of teeth restorations.
General dentistry like routine checkups, gum disease treatment, and custom mouthguards.
Cosmetic dentistry that will give you a stunning, confident smile. Includes veneers, teeth whitening, Invisalign treatment, tooth bonding, and more.
TMJ treatment to stop your nagging jaw pain, facial pain, and earaches.
Oral surgery to remove damaged and disease teeth, including wisdom teeth that are impacted or causing crowding.
The Benefits of Family Dentistry
Life can be busy, and that's why our practice wants to make your family's dental care as easy and as comfortable as possible. One way to streamline your dental health care is by using our family dentistry services. Our dental office can treat your whole family and track their oral health needs so that you don't have to.
When the whole family goes to the dentist regularly, it sets a great example for your children. They will be more likely to feel comfortable about seeing the dentist, and they will understand that oral hygiene is important for their overall health. Timely visits with us for the whole family will also prevent future problems like gum disease and cavities.
Our friendly and experienced staff can also save you time and hassle by scheduling appointments together. It can be confusing when each member of your family has dental care providers at different clinics. Our state of the art dental practice offers convenience, because we can take care of all of your family's dental needs under one roof and make it a positive experience!
Give your loved ones expert family dentistry and convenient care with a personal touch. Call us today at (209) 575-2400. You can also use our online form to schedule a dental visit for the entire family.