At Sierra Dental Care, we know the way your smile looks matters, especially in situations like job interviews or first dates. With cosmetic dentistry at our Modesto, CA dentist office, we'll make sure your smile looks as good as it can!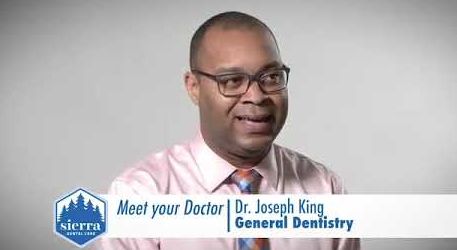 Dr. King describing the all encompassing services he provides at Sierra Dental Care
Our cosmetic dentists offer many affordable treatments, including ones that:
Whiten dingy teeth.
Conceal smile imperfections like chips and gaps.
Straighten teeth.
Get your gums looking great.
Give your teeth a more pleasing shape.
Prevent
Unlock a better-looking smile today! Call Sierra Dental Care at (209) 575-2400. You'll enjoy relaxing in one of our comfortable chairs while getting any of our cosmetic dental treatments.
Hide Smile Flaws With Dental Veneers & Tooth Bonding
Do you have imperfections like chips, cracks, stains, or minor misalignment? Our dentists can conceal them with these procedures:
Dental veneers – Our dentists apply super-thin Lumineers to the front surfaces of your teeth where they can cover a multitude of problems, like deep stains, small gaps, and cracks. They can even make worn-down teeth look longer. Custom-made veneers blend seamlessly into your smile.
Tooth bonding – Our dentists hide flaws by applying tooth-colored composite to your teeth. The affordable treatment can be completed in just one visit.
Straighten & Whiten Your Teeth for Smile Perfection
For a straighter smile, you have a few orthodontics options: Invisalign clear aligners or traditional braces, including colored and clear braces. Your treatment is in excellent hands with our board-certified orthodontist. If your teeth need only minor alterations, our cosmetic dentists can painlessly remove uneven edges and similar flaws with tooth contouring.
You can also get professional teeth whitening for a whiter, brighter smile. Get a treatment in our Modesto, CA dental office, then maintain your bright smile with our whitening for life program. You'll get a complimentary supply of Kool White whitening solution as long as you visit us every six months for routine cleanings and exams.
Get Gorgeous Gums With Cosmetic Dentistry Procedures
If you don't like the look of your gums, our cosmetic dentists can use a laser to:
Remove excess tissue and correct the look of a "gummy" smile with a gum reshaping or crown lengthening procedure.
Restore your smile's appearance with gum recession treatment.
Thanks to our high-tech laser, these cosmetic dental procedures are fast and pain-free.
To learn more about cosmetic dentistry in Modesto, CA, call (209) 575-2400. Or use our convenient online form to contact us.