If you have multiple cosmetic dental issues you want to address, you're probably bracing yourself to spend lots of time and money transforming your smile. Yet our Modesto cosmetic dentists may be able to give you the smile you want with just one solution: dental veneers.
Dr. Marinello Manuel on Veneers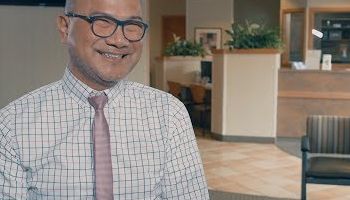 Read Transcript
Veneers is a restorative option. It's very minimally invasive. There is an excellent option of restoration for teeth that are stained or discolored or if you have spacing between your teeth or a malform. Also, for when you have chips and the teeth have been ground down already from grinding there, from the habits, then that's an option for you. It's quick and it's easy, and it's very transforming. It's actually a simple procedure. There's minimal reduction of your natural teeth and it's permanently cemented, and so you come home with your natural teeth with a brighter smile.
With our skills and expertise, we can use ultra-thin veneers to take care of almost any cosmetic dental problem you have. It's amazing how many problems veneers can correct! Applied to the front surface of your teeth, they hide stains, chips, and cracks. They're often called "instant orthodontics" because they can cover small gaps and crooked teeth. And they can lengthen the look of teeth that are too short or worn down.
In addition, our veneers are:
Natural looking – We'll carefully match your custom-made veneers to the rest of your teeth so they look just like your own smile – only better.
Convenient – You care for veneers just like any of your other teeth. They resist staining, so your smile will look beautiful for years with regular brushing, flossing, and checkups.
Quick – You can typically receive your veneers in just two appointments.
Long-lasting – With proper care, veneers can last at least a decade.
Get a smile you're proud to show off! Call our Modesto, CA dentist office at (209) 575-2400.
Enjoy No-Fuss Smile Improvement With Lumineers Veneers
Our dentists use Lumineers, one of the thinnest veneers available today. We'll only need to remove a tiny amount of enamel from your teeth to prepare them for the veneers. In some cases, we won't need to remove any enamel! This offers many benefits:
Faster – The entire dental veneers process will take less time, since we'll remove little if any enamel.
No discomfort – There's less discomfort too. Many patients don't even need anesthesia.
No temporary veneers required – You won't need to wear temporary dental veneers  between your two appointments. No worries about losing a temporary!
What are the benefits of Lumineer veneers?
If your teeth are damaged, cracked or chipped, then our professional dentistry services can help you with dental veneers that will give you a bright smile! Lumineer veneers can give your teeth an instant upgrade.
The main benefit of applying Lumineer veneers to your teeth is that they are easy to apply, and in most cases, they replace the need for lengthy and expensive orthodontics. The process is simple and painless. Our dental professionals will take impressions of your teeth to make molds. There's no need for anesthetics because we won't need to drill your teeth.
Once we have the molds made, we will schedule you for a second visit. We will place the veneers to check for a good fit, then bond the Lumineer veneers to your existing teeth. Once they are bonded to the tooth surface, our dentist will make sure that they are in alignment and comfortable.
Lumineer veneers are long-lasting when you have good oral hygiene, and come in realistic tooth colors so they look realistic. Many people find that Lumineer veneers give them a confidence boost and a smile they will be proud to show off.
Interested in dental veneers? Call Sierra Dental Care at (209) 575-2400.