Sierra Dental Care is invested in the health of your family's smiles. When your little one comes to our Modesto dentist office for their first visit, we will provide a thorough but gentle cleaning and dental exam or just a quick checkup, depending on their age and comfort level. Taking care of your kids is a big charge for us, and it's one that we take seriously. Dr. Marinello Manuel and our team will:
Dr. Monica Armendariz on Bringing Children in Early in Life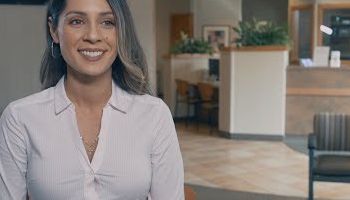 Read Transcript
Most dentists recommend that you bring in your child at 3 years old. That's when most of their primary dentition are starting to come in, and so it's really important that we get them into the dentist and start building that relationship. And as long as the child can trust the dentist, I think that goes miles. And we do a really good job here at making sure that the baby feels comfortable.
You walk in and you play with them a little bit. You let them know you're a friendly face, and that goes miles. And so when the patient comes in with their child, we do a technique where we lay the baby in our lap and the parent holds them, and we just count the teeth. We look inside and do a quick overview to make sure everything is good, and so it's important that they come in at a young age and gain that relationship with the dentist.
Furthermore, when the child is used to coming in to see the dentist, it relieves that dental anxiety of them when they become older in age, the 5-, 6-year-old are more so what I see the fear in. And so, if they've come into the dentist and they recognize our face and of course, when you stay with the same family dentist, then when they come in, it relieves all that dental anxiety, and that's really important.
Gently introduce your children to the idea of routine dental checkups and why it's important to reduce the risk for tooth decay.
Check their teeth and gums for signs of any problems.
Work with you and them to teach them good oral hygiene habits.
Make any needed recommendations for their care.
Call Sierra Dental Care today at (209) 575-2400 to schedule your child's first dental visit with our caring team of experts.
Preparing Your Child for Their First Visit to Our Office
Your child's first dental appointment will shape the rest of their dental experiences as they get older. Here are a few ways to prepare your child for their visit and help them establish healthy dental habits for life:
Bring them to your dental appointments. Bringing your children to an appointment with you will help them get familiar with our office. They will get a chance to interact with our staff and understand what it feels like to be at the dentist. This will go a long way toward helping your child be comfortable before their own dentist appointment.
Brush and floss with them. The biggest thing you can do for your child's smile is show them that good home dental hygiene is a priority. You can model the correct way to brush and floss those baby teeth by maintaining these healthy habits together.
Talk to your kids about the dentist. Your child will have questions about going to the dentist, just like they have questions about everything they encounter! Take a moment to talk to them about oral health and why going to the dentist is important and how Sierra Dental Care has helped you have a clean, healthy smile. Tell them all about our caring staff and comfortable office. Let them know we can't wait to meet them!
Call Sierra Dental Care today at (209) 575-2400 to schedule your child's first dental visit. Set them up for a healthy, lifelong smile when their permanent teeth come in!