Benefits of Dental Crowns and Bridges
When you have a missing tooth, you may lack confidence in your smile or have trouble chewing food. Our professional staff can help restore your oral health with a bridge or crown. We may recommend a bridge to replace your problematic or missing tooth if you have healthy natural teeth surrounding it.
There are several kinds of bridges that we will consider using for you. We often recommend the traditional bridge, which is a false tooth placed between your existing, healthy teeth and cemented in place. An alternative to this is the cantilever bridge, which is placed with a dental crown. It's then cemented to your existing tooth.
A more extensive bridge is the implant-supported bridge. As its name implies, the bridge is held in place by implants to replace a series of missing teeth if needed. The traditional bridge is placed between the natural teeth. It's bonded with porcelain or metal to the abutting tooth. We can help you make the best choice of a bridge for your oral health.
Dental crowns are extremely versatile restorations. Not only do they fix damaged teeth, but they also replace missing teeth when used with dental bridges. Sierra Dental Care in Modesto, CA has extensive experience restoring our patients' smiles using dental crowns and bridges. Our dentists can use these restorations to give you:
Dr. Marinello Manuel on Crowns and Bridges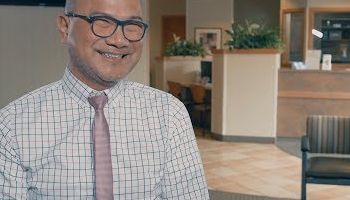 Read Transcript
It's a procedure that we do every day and quite routinely, very easy and very quick. It usually requires two short visits. A crown is actually a replacement for a missing part of your tooth or, for example, you have a fractured tooth or you have an existing restoration that's really leaking or has a fracture in it as well, or the teeth are already weakened with existing restoration. So, we would modify the tooth and prescribe or recommend a crown to cover it and protect whatever's remaining of the tooth there. While a bridge is a replacement for a missing tooth and it actually fixes well and it's attached together and it's cemented permanently, they all look wonderful. It will restore your speech and your function, and it'll look great. As I said, it's pretty easy to do and usually done in two visits. After that, it restores your functionality in a very short period of time.
A new smile that will increase your confidence.
The ability to enjoy foods you've been missing out on.
Better oral health and potentially better overall health.
Improved, better-looking appearance.
Speak with our staff today at (209) 575-2400 to schedule an appointment. We'll get you eating and smiling comfortably again. Our office is located at 3801 Pelandale Ave., Suite B-9, next to Mike's Grillhouse.
Learn More About Crowns & Bridges
Dental crowns are small dental restorations that fit over and protect damaged teeth. They are great for correcting cracked or broken teeth, teeth that have been ravaged by tooth decay, and even a tooth that has had a root canal.
Sierra Dental Care is proud to offer Procera dental crowns to our patients. These are some of the highest-quality dental crowns available, and they will look and function just like your natural teeth.
When you have one or more missing teeth, a dental bridge can fill that embarrassing gap. To replace one missing tooth, your bridge will be made up of two dental crowns with a replacement tooth bonded between them. The crowns are secured to your healthy teeth on each side of the gap, refilling your smile. If you have several missing teeth in a row, we can use more crowns to create your bridge.
Choose Implants as Another Versatile Tooth Replacement Option
Titanium dental implants function as replacement tooth roots to which we can attach a single crown or a bridge. They are sturdy and long-lasting – research has shown that 95 percent of implants will last longer than 20 years!
In addition, implants will help prevent your jawbone from deteriorating. Because they are inserted into your jaw, they stimulate new bone growth like your natural teeth do.
Call our office today at (209) 575-2400 to schedule your appointment for dental crowns and bridges. We offer beautiful restorations and personalized care that can't be beat.