No one knows when they are going to have a dental crisis, so it's important to have a dentist that offers convenient hours like Sierra Dental Care does. Our accommodating schedule – we're open early, late, and on Saturdays – means we're here to help you fast. Also, with several highly skilled dentists on staff, we can see many dental emergencies the same day. With our experienced team, you will receive:
Dr. Monica Armendariz on Dental Emergencies
Read Transcript
Here in our office, what's so special about it is that we are open a lot later than most offices. We see late-night dental emergencies all the time. When you have a tooth pain, it's unbearable. People really come in with excruciating pain. We're here for a lot of the community in Modesto. We really can help them when they have the pain. It's most important that we treat them case by case and really give them options. Like, "This is your emergency. These are the options you have." I think that we do an amazing job here at this office making sure the patient understands what his options are and then treat the patient, get the patient out of pain, because nobody wants to leave in that same pain.
Fast pain relief so you can relax.
Expert care to address your immediate need.
Smile-saving care for your long-term oral health.
If you have an immediate need for treatment, call our Modesto dentist office now at (209) 575-2400. We're located at 3801 Pelandale Ave., Suite B-9, just off Golden State Highway.
Know What to Do During a Dental Crisis
Your first step in any dental emergency is to call us as soon as possible. This is important, as we can help you determine the next steps to take before your emergency appointment. We have an after-hours service as well so we can discuss your situation before you arrive. Here are a few common emergency dental situations we see.
Conversations with Sierra Dental Care employees about Covid-19 safety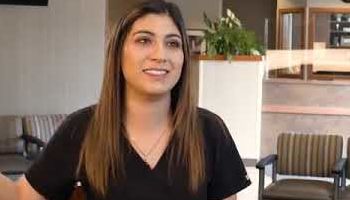 Cracked tooth. Don't ignore a cracked tooth. Call our office now and we'll get you in to see the dentist as soon as possible. We will need to seal your tooth, most likely with a veneer or dental crown, to keep bacteria from getting in and damaging the nerve inside.
Broken tooth. Depending on the severity of the break, you may need an emergency tooth extraction or a dental crown. Call us immediately to get the process started. Our skilled team will help you find the proper treatment solution.
Knocked-out tooth. Again, the first thing you need to do is call us. After that, you should take some steps to make it easier for your dentist to save your tooth. Retrieve your tooth, then clean it off (be careful not to touch the roots) and place it in a container of milk to preserve it until you get to the office.
Infected tooth. Infections of any kind are dangerous, but oral infections put your whole smile at risk. Call our office to find out your next steps and to get an appointment.
For dental emergencies, call us immediately at (209) 575-2400. We have experienced emergency dentists and convenient hours to serve you and relieve your oral pain. If you don't have an emergency but still want to schedule a same-day appointment for routine care, just call or contact us online.