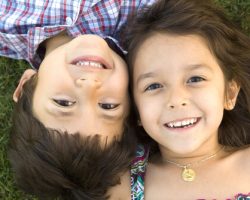 No parent wants their child to experience a dental emergency. It's scary for you, and it's scary for your little one.
Yet, these things happen. Kids run into things — including one another. Accidents happen that can leave someone you love with a broken or knocked-out tooth.
For families living in or near Modesto, CA, you should save this phone number: (209) 575-2400. That how you reach our team a Sierra Dental Care for assistance.
We hope you never need to call us for emergency dental care, but if you do, we'll do everything we can to end the pain and get your loved one's smile back to normal.
What To Do During an Oral Health Emergency
If you have children, you know they don't always make the best decisions. Some of those decisions can lead to injuries.
And some of those injuries can involved teeth. That's why we want to share some "dental first aid" tips for a few common situations:
Broken Tooth
First and foremost, before helping someone having a dental emergency, you should put on vinyl or latex gloves.
If someone has a broken tooth, you will want to rinse his or her mouth if there is any bleeding. Use gauze to soak up the blood if the bleeding persists. When it stops, you will want to rinse the mouth again. Then cover the broken tooth with gauze or dental wax to reduce the risk of accidentally cutting the lips, cheeks, or tongue.
If needed, take an over-the-counter pain reliever or apply a cold pack to reduce swelling.
Knocked-Out Tooth
A knocked-out tooth is handled in a similar way to a broken tooth. You will want to try to find the tooth if possible. If you do, pick up the tooth by the crown. You will want to rinse the tooth and the person's mouth. Again, use gauze as needed until the bleeding stops.
When the mouth and tooth are clean, try placing the tooth back in its socket. Leave the tooth there if it will stay. If not, place the tooth in a container of milk to bring with you to our dental office. In some situations, it may be possible to save the tooth.
As with the broken tooth, you can use an over-the-counter pain reliever or apply a cold pack if needed.
Toothache
Tooth pain is something you should pay attention to as well. Teeth should not cause pain. Before calling a dentist, however, try using dental floss to clean around a tooth. If something is stuck, that may be all you need to do.
If the pain persists, you should call for help as soon as you can. Taking over-the-counter pain medicine can ease the pain until you can see a dentist for relief.
Ending Pain & Fixing Problems
The last thing we want is to cause more pain for your family member. To help ease your mind and keep our patients comfortable, we offer sedation options. Laughing gas can be a fast way to block pain, so your child can get treatment to address the immediate problem. Then we can discuss ways to restore his or her smile.
Please don't wait if you or someone you love needs emergency dental care. Call Sierra Dental Care right away at (209) 575-2400.