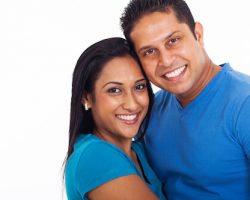 You should get regular dental checkups, but you already know that. You need professional cleanings and exams to fight cavities and gum disease.
But there's another, arguably more important, reason to visit our Modesto, CA dental office. Oral cancer isn't as common as tooth decay, but it's much more important to find it early.
We conduct oral cancer screenings as part of our general dentistry. We never want to find anything, but we would prefer to find this as soon as possible if you do have it. Early detection makes a big difference in the success of treatment of this disease.
If you haven't scheduled your next dental appointment yet, call (209) 575-2400 today to plan your visit to Sierra Dental Care.
Learn What To Look For
We are writing about this today because April is Oral Cancer Awareness Month. To that end, we want you to be aware of some of the most common symptoms of this disease:
Red, white, or mixed patches of soft tissue in your mouth

Mouth sores that haven't gotten better for weeks

Numbness or pain in your mouth or on your lips

Problems speaking, eating, and swallowing

Lumps in your mouth, neck, or throat
To be clear, having these symptoms does not necessarily mean that you have oral cancer. They are good reasons to talk to your family doctor, however. It's much better to find out that it's nothing than to let something continue to get worse.
On an average day in the United States, more than 130 people are diagnosed with this disease. Every hour, one person dies of oral cancer in the U.S.
When oral cancer is found in the late stages, the five-year survival rate is 57 percent. Compare that to the 80 to 90 percent survival rate when the disease is found in the late stages.
Prevent Steps You Can Take
In 9 out of 10 new cases of oral cancer, doctors can identify contributing factors. Knowing the top causes can help you take actions that can greatly reduce your risk of developing this condition.
The best thing you can do is to avoid tobacco. These products contain many carcinogenic chemicals. And tobacco use has been linked (based on conservative estimates to 75 percent of oral cancer cases. It probably won't surprise you to know that your risk increases the longer and the more frequently that you use those products.
In other words, there is no reason to start using tobacco, but there are excellent reasons to quit. It may not be easy, but it is worth it in the long run.
Avoiding or reducing alcohol consumption can make a difference in your oral cancer risk as well. Many people will drink alcohol and use tobacco at the same time. This is particularly risky because alcohol dehydrates the soft tissues of your mouth. That then makes it easier for those tissues to absorb the chemicals from those tobacco products.
Alcohol alone can be a risk factor as well. The Oral Cancer Foundation has reported that individuals who consume 21 or more drinks per week are more likely to develop oral cancer. Keep this in mind throughout the week.
See Us Soon
By visiting Sierra Dental Care, you can get basic dental exams, including oral cancer screenings, on a regular basis. All you need to do is call (209) 575-2400 or contact us online to request an appointment.
We hope to see you soon.