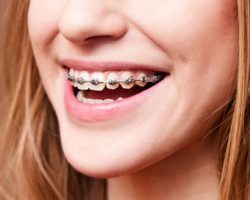 Is someone in your family ready for orthodontic treatment? Then there's no better time than the summer to get started.
And at Sierra Dental Care, you will be cared for by a Board-Certified Orthodontist. Dr. Walied Touni, BDS, MSD, as a diplomat of the American Board of Orthodontics can assess your child's teeth and help you find the right treatment to create a straight smile.
Of course, we also offer orthodontic care for adults who want to fix their crooked teeth.
Whether you are interested in this service for someone in your family or for yourself, be sure to stop by our Modesto, CA dental office. Call 209-575-2400 to get started.
Get Started Soon
The summer is a perfect time to start orthodontic care for your teen. Since school is out, they will have more time for an appointment. Plus, this will give them time to get used to their braces or their aligners before classes resume.
The reasons for straightening teeth start with the cosmetic benefits. You know people who have crooked smiles, and you know people who have perfectly straight teeth. You know that, in part, because straight teeth make smiles look nicer.
When people have nice smiles, they also feel more confident. We've seen it happen over and over again. People's personalities emerge as they go through treatment with braces or Invisalign. It's inspiring to watch people come out of their shells as they stop feeling self-conscious about their teeth.
Keep in mind that straight teeth offer health benefits as well. When teeth are in line and evenly spaces, they can be brushed and flossed more effectively. This also helps with professional cleanings. When your teeth don't overlap, it's much easier to remove bacteria, plaque, tartar, and food particles. When your teeth are correctly aligned, this reduces wear and tear that can result from bite issues.
Choose Treatment You Can Trust
You have many choices in orthodontics today, but it is wise that you select the right and true form of care if you want things to last. Some doctors take a weekend course and put up a shingle. Others may entice you to a mail-order solution. But, regardless of what others advertise, orthodontics is no place to cut corners.
At Sierra Dental Care, your orthodontic needs will be in the well-experienced professional hands of Dr. WaliedTouni!
After graduating in the top 5% of his class in dental school, Dr. Touni went on to years of post-graduate training and residency in Orthodontics. He has been a practicing dentist for over 25 years and he holds the distinction of being an adjunct Clinical Professor of Orthodontics at the University of the Pacific, A. Dugoni School of Dentistry.
There is far more to Orthodontics than simply returning one's smile. The alignment of your teeth and your overall health is at stake.
Straighten Up … Your Smile
Your smile is an important part of who you are. It affects your oral health. It affects how you feel when meeting people for the first time, and it leaves an impression on others one way or another.
Give yourself or your loved one the best smile possible with orthodontic care in Modesto, CA. Call Sierra Dental Care at 209-575-2400 or contact us online to begin.