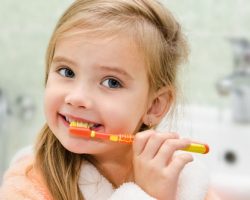 February is Children's Dental Health Month, a time when the American Dental Association does a little extra to educate kids and parents alike about the importance of working toward great oral health early in life. This, of course, includes properly brushing and flossing little smiles, but it also requires routine visits to the dentist.
At Sierra Dental Care, our policy is that if your child has teeth, they're old enough to come visit us! Our compassionate staff is very comfortable working with kids, and we know that a child's early years are formative when it comes to establishing attitudes and habits surrounding dental health. We try to make visits fun, with prizes they can earn, and we ensure that your child is comfortable every step of the way!
Read on to learn about some of the ways we can set your child up for future dental success! Then, if you're looking for excellent pediatric dentistry in Modesto, CA, give us a call at (209) 575-2400.
A Healthy Smile From The First Tooth
Teething can be an adventure for both parents and the baby. As your little one's first teeth come in, your baby is dealing with sore gums — a sensation that can be unfamiliar and scary when you're only six months old.
The caring team at Sierra Dental Care can help make teething a little easier for both you and your child by offering tips on pain management and proper dental hygiene. This includes:
Gently rubbing their gums with a clean finger to relieve discomfort
Getting a cold teething ring
Using an age-appropriate pain reliever
If you do want to try a pain reliever for your child, be sure to check with your pediatrician or one of the experts in our practice. Some medications can be harmful to young children.
Then, once the first tooth comes in, it's time to start brushing! Baby teeth are as prone to decay as adult teeth are, and dental complications when your child is very young can affect their oral development.
Obviously, you'll only need to use a very small amount of toothpaste. Just use a smear the size of a grain of rice for now, and be sure to choose a fluoridated toothpaste to strengthen enamel and prevent cavities!
Your Child's First Dental Checkup
Your child's first dentist appointment is just one of the many milestones during your child's early years, and we hope that you'll let Sierra Dental Care be a part of it! Our approach to this first appointment is simple: We want to help kids know that coming to the dentist isn't scary — and can even be fun!
To do this, we let the child determine what we do or don't do during the first checkup. If they're not feeling comfortable with a certain part of our routine cleaning, that's OK! We want them to know that we are listening to them and will treat them with the same respect that we do our adult patients.
Protecting Permanent Teeth As They Come In
There's something bittersweet about when a child loses their baby teeth. On one hand, they're growing up fast, but on the other, it's fun to watch kids get excited about their adult teeth. As a child's permanent teeth begin to erupt, it's a good time to start thinking about protecting them.
At Sierra Dental Care, we make it easy with sealants and fluoride treatments! Sealants are ultra-thin coats of plastic that are painted onto the chewing surfaces of teeth. Food is prone to get stuck in the grooves and crevices of teeth, which then attracts the bacteria that causes tooth decay. Sealants are a safe and effective way to prevent cavities, and they're a dynamic duo for little teeth when paired with enamel-strengthening fluoride treatments!
Orthodontic Options For Teens
As your child grows, you might start thinking about orthodontic treatment. This is really one of the best gifts a parent can give to their child because a straight smile contributes to overall confidence! It also alleviates bite problems that can impede dental function in addition to being a cosmetic problem.
You'll feel great choosing Sierra Dental Care as the practice that oversees your child's orthodontic treatment. Dr. Marinello Manuel earned both his dental degree and Master of Science in Specialized Orthodontics from Loyola University. Since then, he has dedicated countless hours to continuing education to become even better at what he does!
Plus, his orthodontics solutions are a great value! You'll get high-quality care and stunning results at a price that's very affordable.
Dental Care That Grows As Your Child Does
At Sierra Dental Care, we know that your dental health needs change as you get older. So, it makes sense that you'd bring your child to a practice that can meet your child's needs as their smile grows and develops!
Call us at (209) 575-2400 to learn more, or use our online form to request an appointment.