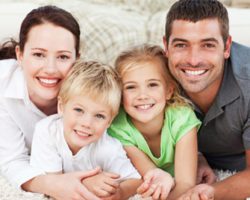 As a parent, you'll experience a lot of exciting firsts with your children. Their first trip to the dentist may not be one you think of right away, but it's certainly an exciting time for little ones. With the right preparation, it can be a positive and even fun experience for your child, setting the tone for visits and checkups in the future.
At Sierra Dental Care, Dr. Marinello Manuel and our team of friendly and professional staff members will make sure both you and your child are comfortable throughout your time with us. Your health and happiness are our top priorities so we will do everything we can to show your child that the dentist is a good place to be!
We encourage you to learn more about your child's first trip to the dentist and how you can help prepare your little one for the visit. But first, learn more about baby teeth and why it's so important to care for them.
Understanding Baby Teeth
Primary teeth, otherwise known as baby teeth, are just as important to care for as adult teeth. Strong and healthy teeth are important for the development of your child. They're also responsible for holding spaces in the jaw for the adult teeth that are growing underneath.
Babies are born with 20 primary teeth that are partially formed inside their gums.
The first teeth typically start to come in when the child is between six and 12 months old. In most cases, a child has a full set of teeth by the time they're three years old.
Caring For Baby Teeth
If you're wondering whether you have to worry about tooth decay in baby teeth, the answer is absolutely yes! If a child develops tooth decay in their primary teeth, they put themselves at a higher risk for developing tooth decay in their permanent teeth. If tooth decay is serious enough, it can cause serious health problems.
To keep your kids' teeth in good shape, you can start before your little one gets their first tooth. Use a toothbrush specifically designed for infants to gently clean their gums. Once their first tooth pokes through, use a pea-size amount of children's toothpaste to gently brush the tooth and the rest of their gums.
As soon as they have two teeth together, you should start flossing their teeth as well. Try to limit their consumption of sugary foods and drinks as much as possible.
Getting Your Child Ready For The Dentist
Preparing your child for their first trip to the dentist starts well before the day of their appointment. It's a good idea to help your child become more comfortable not only with the idea of going to the dentist but with having their teeth examined and cleaned as well.
Regularly brushing and flossing their teeth from day one is one of the best ways to get your child ready for the dentist.
It may also help to talk to your child about going to a dentist office. Have regular conversations about what they can expect and be sure to use positive language. Give them something to look forward to! There are numerous books about visiting the dentist that can make the trip less intimidating.
We also recommend bringing your child with you during your own teeth cleaning. You can lead by example and show them there's nothing to fear! When you call to schedule your child's first dentist appointment, feel free to schedule your own teeth cleaning as well so we can take care of you both on the same day!
Schedule Your Child's First Dentist Appointment Today
Whether your child has one tooth or a full set of teeth, it's important they come see us so we can make sure everything is coming in the way it should. We can help your child maintain healthy teeth while preventing potential problems like misalignment or tooth decay.
To schedule your child's first dentist appointment, call Sierra Dental Care in Modesto, CA at (209) 575-2400 or contact us online. We look forward to hearing from you.