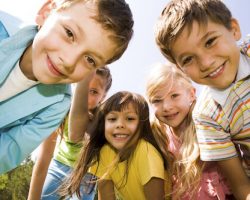 The first day of the school is just around the corner. You want your family to start the year healthy, and our team at Sierra Dental Care can help.
While you are picking up school supplies, schedule a trip to our Modesto, CA dental office by calling (209) 575-2400. A dental checkup is good any time of year, but it can be particularly important while classes are in session.
According to the American Dental Association, kids miss more than 51 million hours of class annually as a result of dental issues. Keeping your family cavity-free could help them stay in school.
With this in mind, we've put together our own back-to-school checklist for you and your family to start the school year with a smile!
Yes, you need to keep brushing your teeth (twice a day) and flossing between your teeth and gums (daily). Even so, a professional cleaning a few times a year can go a long way toward keeping your smile looking its best.
When you visit us, a member of our team will remove plaque and tartar buildup that you may have missed. This can help prevent tooth decay before it begins.
Speaking of which, did you know that more than half of all kids will have at least one cavity by their 11th birthday? Knowing this, we are always keeping an eye open for signs of decay. If we notice anything, we will let you know so you can decide how to deal with it. We're certain you would rather fix the problem now then get a call from the school nurse in a month or two letting you know that your child has a toothache.
▢ Get Fluoride Treatments
While you are here for your family's dental cleanings, you should also take advantage of our other services.
A fluoride treatment is another way of reducing your children's risk of tooth decay. To get a little technical for a moment, decay is the result of the demineralization of your child's teeth. As more minerals are lost, the decay can turn into a cavity.
One way to fight this is by remineralizing your son or daughter's teeth. That's what fluoride does. It is a mineral, and when it's applied to teeth, it can repair damage, make teeth stronger, and leave teeth more resistant to decay.
▢ Get Dental Sealants
When your kids play sports, you expect them to wear the correct protective gear (including athletic mouthguards). For everyday situations, there is one more thing you can do to guard against cavities.
You can get dental sealants. You could think of sealants as armor for your teeth. Sealants serve as the first line of defense for your kids' smiles. Before bacteria can cause any harm, they have to get through the sealants first.
And according to the ADA, sealants reduce the risk of cavities in molars (the big teeth in the back of the mouth) by 80 percent.
Be Ready When Classes Begin
When you send your kids back to school, send them with healthy smiles. Or if they aren't happy about school starting again, at least send them back with healthy mouths.
To request an appointment at Sierra Dental Care, contact us online or call (209) 575-2400 today!