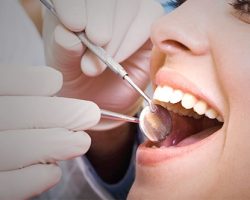 One common selling point that dental care chains push on patients is their affordable prices for dental care. Well, Sierra Dental Care is able to offer the same affordable dentistry in the Modesto, CA area, and give you the added benefit of personalized dental care that you cannot get from a chain. Are you ready for a better dental experience? Call our office today at 209-575-2400 to schedule your appointment.
Sierra Dental Care Is not Like Other Dentists
Chain dental care practices are able to keep their prices low for two reasons: the high volume of patients, and spreading their bottom-line costs across the entire group of practices.
This means you get a practice that is beholden to a corporate office and who will do all they can to maximize their profits, whether through pushing a certain dental treatment on you or cutting back on some of the comfort options that are available to you.
Sierra Dental Care is able to keep our prices affordable and provide you with an amazing dental experience. The way we keep our prices low is by offering different dental financing options to take more of the burden off of you. Take a look at some of the different payment options that can help you get the high-quality dental care you deserve.
3 Ways You Can Save Money on Your Dental Care
#1: CareCredit
One of the best ways to afford your care is through a specialty medical lending firms. Issued by Synchrony Bank, CareCredit is one firm that has been especially helpful for our patients who depend on Sierra Dental Care for their dental needs. With lending options ranging from low interest all the way to no interest, you can get all the help you need to take care of your smile.
All it takes is a few minutes of your time to get qualified for the funds you need to remake your smile. They have a promotional financing option for first-time cardholders that allows you to pay for your dental care interest-free for up to 24 months.
Sierra Dental Care gladly accepts CareCredit at our practice. It is one of the biggest ways we are able to keep your out-of-pocket costs low. Call our office at 209-575-2400 if you have any questions about your financing options.
#2: Citi Health
This specialty medical lending firm is much like CareCredit but is issued by Citi Financial.
Once again, all it takes is a short application process, and then you will have access to the funds you need to pay for your treatments here. They also offer interest-free financing on a tiered level:
6 Months for Purchases of $250 or more
12 Months for Purchases of $500 or more
18 Months for Purchases of $750 or more
24 Months for Purchases of $1,000 or more
#3: Maximize Your Dental Insurance
One major way we help our patients is to maximize your dental insurance benefits. We accept almost all dental insurance. We will do all we can to make sure that your out-of-pocket cost is as low as possible and allow you to take those savings and use it in other areas of your life.
Call our office today at 209-575-2400 to find out all of the ways Sierra Dental Care can make your insurance work for you. Dental insurance generally covers two teeth cleanings and exams per year. These routine scheduled checks of your dental health save you money in the long run by keeping you safe from cavities and other dental problems. Your insurance may even cover fillings, dental sealants, and fluoride treatments at your dental appointments.
Save Money and Your Smile at Sierra Dental Care
Call our Modesto dental office today at 209-575-2400 to schedule your appointment. You've worked hard for your money, and Sierra Dental Care wants to help you keep as much of it as we can, all while providing the high-quality care you need.