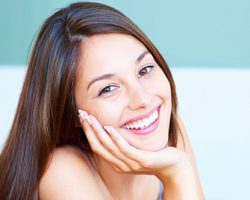 There's nothing wrong with being picky about how you spend your money. In fact, it's better to be picky than reckless when it comes to your finances.
At Sierra Dental Care, we regularly help patients suffering from tooth loss restore their smile with a solution that will last a lifetime: dental implants. These revolutionary dental devices will change the way you feel about your teeth and restore your smile to its full potential!
What Is A Dental Implant?
A dental implant is a post, usually made of titanium, that works as a replacement for your natural tooth root. In most cases, dental implants work as the best replacement for missing teeth. When you lose a tooth, both the visible tooth called the crown, and its root is lost. To completely restore function, both need to be replaced.
We place the dental implant in your jawbone and allow it to fuse to your bone. This guarantees that it becomes just as strong and reliable as your natural teeth. We can use dental implants to replace one or several missing teeth.
A dental implant is undoubtedly the closest you can get to completely restoring your natural teeth. You'll be able to eat, drink, smile, and much more with total confidence.
Are Dental Implants Right For Me?
If you're missing one or more teeth, there's a good chance dental implants are right for you. Just about any adult in good health who have lost a tooth, for whatever reason, or was even born without one, can benefit from dental implants. However, the only way to know for sure is to visit our office for a consultation.
At Sierra Dental Care, we can take a look at your mouth and discuss your overall health to determine if you're a good candidate for dental implants.
Even if you're currently wearing dentures, there's a good chance you can benefit from dental implants or implant-supported dentures.
Dental Implant Procedure: What To Expect
There are several steps involved in the dental implant process. But, as we mentioned before, it's a worthy investment that's entirely worth each step it takes to restore your smile.
Once you've had your consultation with us and we've declared you a good candidate for the process, we'll get started. We will first take images of your jaw to help us accurately and efficiently prepare for your procedure.
Then, we will surgically place your dental implants in your jaw bone. We will provide a temporary restoration solution while your implants heal and fuse to your bone, then you'll come back and see us again a short time later. During that next visit, we will attach the abutments to the implants, then top them off with dental crowns, completing your brand new smile!
When you leave our office, there is no special care required to maintain your dental implants. Simply treat them like you would your normal teeth. That includes brushing your teeth at least twice a day, flossing daily, and maintaining regular checkups with us.
If you keep your mouth and your implants healthy, you're set for life! Now that's a good investment!
Benefits Of Dental Implants
There are several benefits to investing in dental implants to restore your smile, including:
Dental implants look like healthy, natural teeth.
Dental implants are a long-term, cost-effective option for tooth restoration.
Dental implants are worry-free and require no special care.
Dental implants help you maintain your natural face shape and smile.
Dental implants help protect your bone and remaining teeth.
Dental implants allow you to speak without trouble.
Dental implants allow you to eat what you want.
Find Out More About Dental Implants Today
Don't wait another day to learn more about dental implants. Dr. Marinello Manuel and the rest of our knowledgeable staff here at Sierra Dental Care are ready to help you get the smile of your dreams while protecting your oral health.
Take the first step toward a radiant, confident smile by calling our Modesto, CA office to schedule a consultation. Call (209) 575-2400 or contact us online. We look forward to hearing from you.