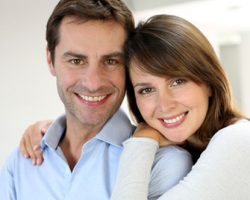 Our entire practice here at Sierra Dental Care is geared toward making you feel comfortable. Unlike the "take a number" culture that you may have experienced in dental care chains, Sierra Dental Care treats you like a real person with unique needs. Call our Modesto, CA office today at (209) 575-2400 to schedule your appointment and see how a personalized touch to your dental treatment can make all of the difference.
Dental anxiety keeps millions of Americans out of the dental chair each year. With so many people avoiding dental care, it is no wonder they have smiles that may not look their best. If you suffer from dental anxiety, Sierra Dental Care can help you get past your dental fear and get the care your smile needs to be great.
What Is Dental Anxiety and What Causes It?
Dental anxiety is a fear of going to the dentist, and it keeps people from seeking dental help, even when doing so could ruin their smile. Millions of people suffering from dental anxiety have had a bad past dental experience, usually a painful procedure.
Sierra Dental Care takes your comfort seriously and will not perform any procedure before you have been properly numbed and/or sedated. As a patient at Sierra Dental Care, you can expect pain-free dentistry. Call our Modesto, CA dental office to find out all the ways we can ensure your comfort.
3 Steps to Getting Past Your Dental Anxiety
Solving any problem is a process. Here is the process some of our patients have used to start improving their smiles.
 
Step #1 – Think about what caused your dental anxiety. Was is a painful appointment when you were a kid? Did your former dentist not listen to you when you said you felt something? Maybe your dentist made you feel ashamed about the condition of your teeth. Once you have discovered why you developed dental fear, you are ready to move to the next step.
 
Step #2 – The next step in your journey toward freedom from dental anxiety is to speak with someone about it. A perfect person to speak with is your Sierra Dental Care dentist. For 25 years, we have helped many people overcome the dental anxiety standing between them and the care they needed.
Tell your Sierra Dental Care dentist your concerns. They will be able to show you how things are done differently at our office. Some procedures may have changed dramatically since the last time you visited the dentist, while others have been replaced by new treatments that are more effective and cause little to no pain at all.
You also will never have to deal with any shaming from our dental team. We are a no-pressure, no-judgment practice that is simply here to help you get the care you need. We want you to have a great-looking smile, and we'll do all we can to make that a reality for you.
Step #3 – The final step in the process is to make your dental appointment by calling 209-846-3961, and keeping it. It is so important for you to show up to your dental appointment. You can come in for dental care and get your smile on the road to recovery. You can even just come in to talk to us. We know dental anxiety is not easy to get over, and we want to make sure we are available for you, no matter what you need.
Come in and get comfortable in the office. Talk to our office staff, or have a consultation with one of our dentists.
Additional Dental Anxiety Help with Sedation Dentistry
Maybe you need a little extra help relieving your dental anxiety. That's why Sierra Dental Care offers dental sedation. Dental sedation is a great way to take the edge off of your nerves just enough to help you relax and get through your dental appointment. 
You Can Trust Your Smile to Sierra Dental Care
Call our Modesto, CA office today at 209-846-3961 to get the dental anxiety help you need. There is nothing to fear about getting the great smile you deserve here, and we can help show you why.