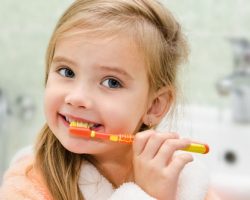 Being a parent is one of the hardest and most rewarding things that you can do. You want your kids to be healthy, and you also want them to learn to take responsibility for themselves.
Oral health is a great example of where those things overlap.
As you kids get older, you want them to be able to take care of their teeth, and often, they want to show you what they can do on their own. 
Nevertheless, you want to find a dentist office that understands how to work with kids. But you want a dentist office that knows how to work with parents, too.
You want a dentist office like Sierra Dental Care in Modesto, CA. Starting with your child's first visit with us, we try to make dental care fun and enjoyable. We also are happy to answer any questions you have about your child's oral health.
To get started, call us at (209) 575-2400 or contact us online to request an appointment.
Oral Care Can Start At Birth
You can and should start your children's oral care when they are born. You don't have to wait for their first teeth to erupt.
The American Academy of Pediatric Dentistry recommends cleaning your children's gums with a moist cloth at first. After the first teeth arrive, you can start using a small toothbrush to gently scrub the tooth. Use a small dab of toothpaste (about the size of a grain of rice).
Remember, if you have teeth, you can get tooth decay.
Continue doing this as more teeth emerge. When two teeth are side-by-side, you can begin gently flossing between them.
You will want to continue brushing and flossing for your children until they get a little older. In time, most kids will show a desire to brush and floss on their own. A good way to teach this is by brushing and flossing at the same time as your child.
By this point, you can start placing a pea-sized dab of toothpaste with fluoride on the toothbrush. (Coincidentally, this is plenty for adults, too.) You should brush for two minutes, twice per day, and be sure to scrub your teeth on all sides.
Two minutes can seem like a long time, especially for younger children. You may want to use a timer or use a stopwatch to keep track of the time.
You also can find free apps for smartphones and tablets that encourage kids to keep their mouths healthy. Some play music, and others turn brushing and flossing into a game. See if you can find one that works for your child.
Your Kid's First Visit To The Dentist
This is a milestone for you and your child, and we want to help make it as memorable and enjoyable as we can.
One way you can help your child get used to the dentist is by bringing him or her with you during your dental appointments. If your daughter or son can watch what happens when you visit the dentist, this can make it easier when it's time for his or her first dental cleaning and exam.
You are already aware how curious children can be. Take time to talk to them about what happens at the dentist office. The more they learn, the more comfortable they are likely to feel in the dentist chair.
We welcome children at our office as soon as they have teeth. Sometimes those initial visits are more about getting used to being in the dentist office rather than having a full cleaning. With time, we have found that most children will become more comfortable letting us take a look at their teeth.
We know that some kids will need a little more time to adjust to receiving dental care, and that's perfectly OK. We don't ever want to force your children to do anything.
At the same time, we do provide incentives to encourage kids to keep their mouths healthy. Our treasure box contains prizes for your children to take home.
Please Ask Us Questions
You have a lot on your plate as a parent already. We know that you may have questions about your children's oral health. Whether you are looking for tips on teething or keeping your family's mouths healthy, we are happy to help.
You can reach Sierra Dental Care by filling out our online form or by calling (209) 575-2400.