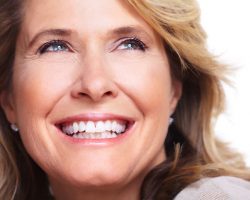 It's time.
You don't have to live with a crooked smile any longer. 2019 can be the year you do something you've wanted to do for a while.
And visiting Sierra Dental Care can be your first step toward a straighter and healthier smile. At our office, you can be treated by a board-certified orthodontist in Modesto, CA. But Dr. Cameron Wheeler isn't just any orthodontist. She has been voted the Best Orthodontist by readers of San Joaquin Magazine for eight years in a row!
Call (209) 575-2400 today to get started with your orthodontic assessment. Your new smile is waiting!
Evaluating Your Smile
Orthodontics is one of the specialties recognized by the American Dental Association. Specifically, it is the area of dentistry that focuses on correcting the position of teeth. Orthodontists complete years of additional training after dental school to become experts in this field.
Through her training and experience, orthodontists have a deep knowledge of facial structures in addition to her understanding of teeth and how they should fit together. This is why we are so happy to have someone with Dr. Wheeler's background on our team.
During your initial assessment, we will take X-ray and make impressions. This also is time to discuss your goals for your smile and what treatment options might be right for you.
And please know that you're never too old to straighten your teeth. Nearly 1 in 4 orthodontic patients in the U.S. is an adult now, and we have options that can work for you.
Knowing Your Options
The orthodontic care that is right for you will depend on what issue(s) you are facing:
Crowded teeth
Gaps between teeth
Crooked teeth
Overbites
Open bites
Crossbites
Underbites
Many patients have more than one concern. The severity of your issues can affect the kind of treatment you need as well as how long it will take to move your teeth where you want them to be.
For many people, traditional metal braces are still the best and most effective solution. Braces have a long history as an effective way of fixing even the most complex alignment problems. In some instances, we may discuss removing a tooth or a few teeth. This can make your treatment much easier, although it's not necessary in many cases. We also offer clear braces with tooth-colored wires for patients who prefer something less noticeable.
Many adult patients are interested in Invisalign. This system uses clear aligners in place of brackets and wires. It's one of the most discreet options for moving your teeth. It's an excellent choice for patients with mild or moderate alignment issues.
Nothing Changes Unless You Decide to Make it Happen
How long have you been unhappy with your smile? Don't wait another year, another month, or another week to do something about it.
Pick up the phone today and call (209) 575-2400. Or fill out our online form right now.
Request your orthodontic consultation at Sierra Dental Care to begin your journey to a better, more confident smile!