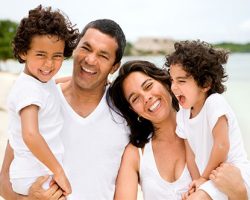 Finding a family dentist is important for the people that you love. Finding an office that can treat everyone from your toddlers to your own parents can make dental care easier for everyone.
That's exactly what you'll find at Sierra Dental Care.
From your child's first visit to your teen's orthodontic care, we can help. We also can provide you with preventive, cosmetic, and restorative services at our Modesto, CA, dentist office.
Whether you want a cavity filled, a tooth replaced, or a whiter smile, we can help. All you have to do is schedule a visit with us. To request an appointment, call (209) 575-2400 or contact us online.
A Good Start Is Important
Bringing your child to the dentist for his or her first visit is a big milestone for everyone in your family. Our team of dental professionals understands this, and we want your child to feel special when he or she comes to see us.
Our hope is to provide a dental cleaning and exam during this visit, but we are not going to force your child to do anything. If your son or daughter is not ready for a cleaning, that's OK. Sometimes, we can only do a quick checkup during this initial visit, but this will help him or her feel more comfortable the next time you stop by.
In the long run, we know that easing your child into dental care will make cleanings and other treatments easier as they get older.
Hours That Work With Your Schedule
When we opened Sierra Dental Care, we wanted to be an office that served families in and around Modesto, CA.
One way we do this is by providing as many services as we can at one location. Being able to bring your children to the same office where you receive your dental care can save time and gas.
But it's just as important that our dentists are available at times that are convenient for you. You work, and when your kids are in school, your schedule can become even more hectic.
That's why we are open after 5 p.m. four days a week and why we are open on Saturdays. To be a family dentist office, we understand that we need to be available at times that are convenient for you.
Flexible Payment Options
Another concern for many families is how they will pay for dental care. Our team wants to help you and your family have the healthiest mouths that you can. That's also why we have a variety of payment options, so you can find the one that works well with your budget.
If you have dental insurance through your employer, call us. We work with many insurance providers. We also work with services such as CareCredit, which can help you finance dental care.
Another great option for anyone without insurance is our Affordable Dental Plan Discount™. This is good for anyone who does not have dental insurance. By signing up for our in-house plan, you can save up to 60 percent on dental services.
For a low annual fee, you can receive two exams per year, X-rays, oral cancer screenings, periodontal exams and screenings, a personalized diagnosis and treatment plan, and free consultations on orthodontic care.
You Want Your Family To Stay Healthy, We Want To Help
We know how valuable regular dental care is for maintaining your family's oral health. Everyone at Sierra Dental Care wants to work with you to keep you kids free from cavities and gum disease.
If you are new to the area or just looking for a new family dentist, feel free to call (209) 575-2400 or contact us online to request an appointment.