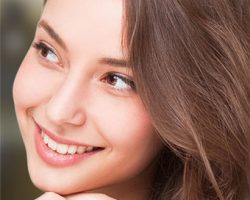 At Sierra Dental Care in Modesto, CA, you can find an orthodontic solution unlike any other you may have seen. In fact, this one is invisible to the people around you, is removable, and can straighten your teeth in less than half the time that traditional braces take. Invisalign is the adult orthodontic option for a straighter smile. Call Sierra Dental Care today at (209) 575-2400 to schedule your consultation and get the straight smile you have been wanting.
Dr. Marinello Manuel provides Invisalign treatment in a personalized environment that helps you feel at ease during your care. We are also able to offer affordable pricing that you normally see only with the dental chains but without sacrificing quality.
What is Invisalign?
Invisalign is a short-term orthodontic option from Sierra Dental Care. Using a series of plastic dental aligners (kind of like mouthguards), Invisalign gently moves your teeth into their correct spots. Traditional orthodontic treatments like metal braces take anywhere from two to three years to correct the alignment of your teeth, but not Invisalign.
Invisalign is not for everyone, however. Your Sierra Dental Care dentist will evaluate your situation and help determine whether Invisalign will give you the help you need. Severe alignment issues may still need traditional metal braces, and younger patients are not normally candidates for Invisalign. But if you are a busy adult who doesn't want to deal with the impact metal brackets will have on your smile, this amazing option could be for you.
What are the Benefits of Invisalign?
Invisalign allows for a straighter smile without having to resort to metal braces, but that is not the only benefit they offer.
Comfort – Invisalign offers unmatched comfort when it comes to orthodontic care. The dental aligners are made of smooth plastic. This means no sharp metal edges to poke and prod the soft tissue inside your mouth. Sierra Dental Care will fit your custom Invisalign dental aligners perfectly to your smile. You will not find a more comfortable option anywhere you go.
Appearance – With Invisalign, your aligners are made from clear plastic. This means that your smile will not show any visible signs that you are wearing braces. This is in stark contrast to the impact that metal brackets have on your smile. Even with colorful bands and new-age dental wire, traditional braces still show no matter what you do. This is why Invisalign is such a great option for working adults. We can help you correct your smile and keep it a secret from your friends and coworkers.
Convenience – Traditional braces are with you every minute of every day that you wear them. There is no taking them off or taking a break until your treatment is done. Invisalign aligners are removable and only need to be in your mouth 20 out of every 24 hours. This means you have four hours where you can take them out to eat your meals, brush your teeth, or attend a special event. No changing your diet or routine with Invisalign.
Traditional braces also need monthly appointments to have them adjusted. This is different with Invisalign. You will come back to our Modesto, CA office every six weeks, but only for a check on your progress. You may also pick up more aligners as needed. Everything about orthodontics is easier here.
Time – Treatment with Invisalign is shorter than treatment with traditional braces. Instead of two or even three years of orthodontic treatment, Invisalign clear braces can do the work in as little as 12 months. You can have a great looking smile in only a year. This also saves you at least one full year of attending dental appointments, avoiding your favorite foods, or spending a lot more time brushing and cleaning your teeth.
Get Your Invisalign Treatment From Sierra Dental Care
Call our Modesto, CA dental office now at 209-846-3961 to get started on your Invisalign treatment. Sierra Dental Care is dedicated to providing you with the best possible options when it comes to correcting your smile. With the help of Invisalign, we can correct your smile and improve your appearance in as little as one year.