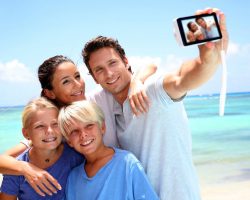 With the popularity of smartphones and their built-in cameras, you or someone close to you will probably be taking a "selfie" this summer.
It may be part of a family vacation. It may be during a weekend road trip with some of your friends. It might even be part of a "staycation" in your own backyard.
Whenever that moment comes, we want you to feel good about sharing your great smile — in pictures and in person. At Sierra Dental Care in Modesto, CA, we have a number of services that can give you a photo-worthy, vacation-ready smile for the summer ahead.
Call (209) 575-2400 today to request an appointment!
Start with the Basics
The best thing you can do to keep your smile looking its best is to take care of your mouth.
That means continuing to brush your teeth for two minutes, two times every day and to floss daily as well. The third crucial step is getting professional dental cleanings and exams regularly.
A cavity or gum disease could spoil more than your vacation photo. Either one could spoil days that were supposed to be relaxing and filled with fun — not dental fillings.
During a professional cleaning, we will be looking for any signs of decay or gum infections. If we find anything, we can get started on your treatment so you won't have to worry about a toothache when you should be trying some new dish or relaxing on a beach.
If you don't have any decay or other problems, we want to keep it that way. One of our dental professionals will remove any plaque or tartar buildup, which will greatly reduce your risk of developing cavities in the near future.
We'll finish by polishing your teeth so your smile can look a little better than it did before you sat down in one of our chairs.
Better Smiles for Summer
If you are active on social media, you've probably seen lots of people mention they are renewing their efforts to lose a few pounds. You may have even posted a message like this yourself.
Like all of us, you want to be healthier, which will improve your confidence in your appearance as well. (We don't blame you. We could probably afford to lose a few pounds ourselves.)
While you are at it, why not consider getting your smile in better shape as well with one of our cosmetic services:
Professional teeth whitening can remove stains from your smile so your teeth look that much nicer in person and in pictures.
Dental veneers are another great way to improve your smile. In a matter of a few weeks, you could hide your chipped, broken, and stained teeth to improve your smile.
Dental bonding is another way to repair chips and cracks and to close gaps you'd rather not have between your teeth.
Ready for your Picture?
If you aren't sure, now is the perfect time to contact us online or to call (209) 575-2400. Request an appointment at Sierra Dental Care today, so you can look and feel your best during your next vacation.