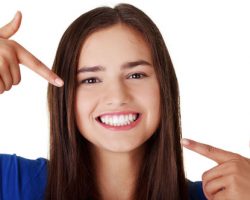 If you're embarrassed or ashamed of your smile, don't let another year go by without doing something to fix it. What better way to start the new year than with a beautiful, confident, and radiant smile?
At Sierra Dental Care, we can help make that happen! Our team of experienced and professional dentists, including Dr. Marinello Manuel, can make your dream a reality with the help of one or more of our cosmetic dentistry solutions. We can fix a wide variety of cosmetic issues with one or more of our solutions, we just need you to visit our office to discuss your options with us! Read more about the treatments we offer, then request an appointment for a consultation by calling (209) 575-2400.
Dental Veneers
A dental veneer is a thin shell, usually made of porcelain, that is bonded to the front of a tooth to add strength, repair mild damage, or improve the appearance of the tooth.
Dental veneers can be used to fix teeth that are discolored, worn down, chipped, broken, misaligned, or misshapen. They can also hide small gaps between teeth.
At Sierra Dental Care, we use top-quality porcelain Lumineers that are super thin but surprisingly strong. Because Lumineers are so thin, they require less prep work, which means we don't have to remove as much enamel from your tooth before placing them.
Lumineers are a great option because they take less time, are a long-term cosmetic solution, and generally don't require any anesthesia.
Teeth Whitening
If you're concerned about the color of your teeth, we can help fix that too! At Sierra Dental Care, we offer professional teeth whitening that can dramatically brighten and whiten your smile.
The whitening treatment we offer is so powerful, you'll likely only need one appointment to whiten your teeth by several shades and get the results you're looking for. You may be surprised by how much of a difference teeth whitening can make for your smile.
Orthodontics/Invisalign
Straight teeth are an important part of a gorgeous, confident smile. You can get the straighter smile you desire with the help of our orthodontic solutions at Sierra Dental Care.
Dr. Marinello Manuel has a Master of Science with a specialization in orthodontics. That makes him the right person to see to fix your teeth with orthodontics.
At Sierra Dental Care, we offer traditional metal braces as well as Invisalign. Invisalign uses clear aligners, similar to retainers, to gradually realign your teeth in as little as 12 months. Invisalign is a discreet, short-term way to straighten your smile.
During your consultation at our Modesto, CA dental office we can determine if you're a good candidate for Invisalign.
Teeth Contouring/Crown Lengthening
Teeth contouring or crown lengthening is another way we can dramatically improve the look of your smile. These services are particularly meant for people who want to change the shape of their teeth or adjust their gumline to show more of their teeth and less of their gums.
Dental Bonding
At Sierra Dental Care, our team of skilled cosmetic dentists can fix cracks and chips in your teeth using composite resin. The resin is carefully matched to the color of your teeth so no one will even be able to tell you took advantage of this great service. Our dental bonding treatment is quick and cost-effective, so be sure to ask us about the service when you call to request an appointment or come in for a consultation.
How Can We Help You?
At Sierra Dental Care, we want to help give you the smile of your dreams. To give us the opportunity to do that, call our Modesto, CA dentist office at (209) 575-2400 to request an appointment. You can also contact us online and fill out our form to request an appointment.
When you come in for a consultation we will examine your teeth and discuss your goals with you to find out which cosmetic service will work best for you. All you have to do is call!