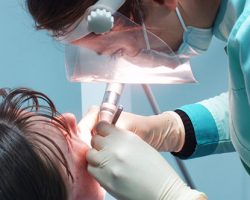 At Sierra Dental Care, we've been helping patients in Modesto, CA restore their smiles, find relief from pain, and protect their teeth with oral surgery. No matter how difficult you think your case may be, we're ready to take on the challenge!
It's normal to feel nervous before any procedure, especially surgery. We've offered some tips to help you prepare for your oral surgery, ease your fears, and ensure everything runs smoothly. In the meantime, remember you're in good hands with our experienced oral surgeon Dr. Marinello Manuel and the rest of our staff here in Modesto, CA.
Plan Ahead
Arguably the most important step when preparing for surgery of any kind is to plan ahead. You don't want to be scrambling to get things taken care of the morning of your procedure. If you have to take time off work, don't wait until the last minute to inform your boss. If you have young children, make arrangements in advance to have them taken care of the day of your procedure.
You should plan to take it easy the rest of the day, once your procedure is over. Set up a comfortable spot at home with some of your favorite movies. Relax and enjoy some downtime while you give your mouth adequate recovery time and a chance to heal.
Find Someone To Give You A Ride
At Sierra Dental Care, we offer nitrous oxide to patients as a sedation option. It can help ensure your oral surgery or dental procedure is painless, but it also means you'll need a ride home. If you're unsure about the sedation that will be used for your oral procedure, don't hesitate to ask before the big day.
We recommend finding someone who can stay at the office while you're in surgery, so we can share your care instructions with them as well before you head home.
Fast After Midnight
If you're going to be sedated, you can't eat or drink anything, including water, after midnight the night before your surgery.
If you have anything in your stomach when you're anesthetized, there's a risk of aspiration. Aspiration is rare but serious, and occurs when the contents of your stomach fill your lungs. If you need to take medication during your fasting time, have just a small sip of water if you need to. You should also avoid smoking at least 12 hours before your oral surgery.
You can brush and floss your teeth before you come in for your appointment. While we recommend you give up the habit, you should avoid smoking for a minimum of 24 hours after your oral surgery.
Typically, we recommend you stick to a liquid or soft foods diet until your mouth has healed. However, you shouldn't use a straw because it can cause a dry socket, which is a very painful condition that requires additional care.
Show Up Early
On the day of your oral procedure, it's usually a good idea, unless we specifically say otherwise, to show up at least 20 minutes early. That extra time will give you a chance to take care of any last-minute paperwork as well as calm your nerves. If you have any additional questions about your oral procedure, that's your last chance to ask them before we prep you for surgery.
Oral Surgery In Modesto, CA
At Sierra Dental Care, tooth extraction is one of the most common types of oral surgery we perform. We'll try to help you keep your natural teeth if possible, but a tooth extraction may be the best option for you if you're suffering from extreme tooth decay, a broken tooth, crowded teeth, or impacted teeth. We may also extract teeth to make room for full dentures.
With the help of dental sedation, local anesthesia, and our various comfort options, we can guarantee you'll be in good hands with us.
If you're experiencing dental issues and think you may benefit from oral surgery, call today to schedule a consultation with us. Call Sierra Dental Care at (209) 575-2400 or contact us online. We look forward to hearing from you!