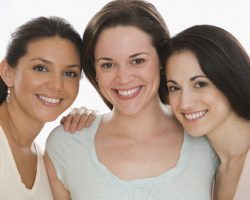 Summer is approaching fast. It's often a busy time.
With longer days and warm weather, people want to get out and do things with their family and friends. That's why so many people plan cookouts, vacations, and weddings during this time of year.
If you've got plans for this summer, you probably want to look your best for those special occasions. You may have started shopping for a new outfit. You may have scheduled an appointment for a haircut.
So, why not make a change that will last longer than a new shirt or dress or the latest hairstyle? Why not call (209) 575-2400 to ask about cosmetic dentistry at our Modesto, CA office?
With an assist from Sierra Dental Care, you could have the smile of your dreams for summer and many summers to come. Below, we'll describe just a few of the ways we could help transform your smile!
Fix the Small Flaws
A small problem can have a big effect on how you feel about your teeth.
We've seen patients who had wonderful smiles but felt embarrassed to share them because of a chip or crack in one of their teeth. We've also helped them restore their confidence in their smiles with dental bonding.
Bonding is one of the most conservative and simplest ways to correct chipped, cracked, and broken teeth. It also can be used to close gaps between teeth.
Bonding involves placing a composite resin on your teeth to repair damage or to build up teeth in some way. After the resin is applied to a tooth, we help it cure or harden. Then we can polish the resin so it blends in seamlessly with your natural tooth.
Reshape Your Smile
You may not have a chipped tooth. Instead, you may have teeth that look long or a smile that's more gum tissue than teeth.
We can help with both of those situations as well.
For someone who has "long" teeth, tooth contouring is the perfect solution. Sort of like a sculptor removing part of a rock to make a statue, we can remove part of your tooth to give it a more pleasing shape.
If your gums are getting in the way of a great smile, crown lengthening is our fix for that. Crown lengthening is actually about removing excess gum tissue so your teeth appear longer, and therefore more visible when you smile.
Make Your Smile Brighter
At one time or another, you've probably heard someone talk about "Hollywood smiles." You don't have to be a movie star (or even aspire to be one) to walk a nice, attractive smile.
One thing that can help anyone's smile look a little nicer is professional teeth whitening.
No matter whether you prefer coffee or smoothies, enchiladas or pasta, cake or pie, pretty much everything you eat or drink is adding to stains on your teeth. This can build gradually for years before you notice that your "pearly whites" have lost their luster.
You can get that back with a teeth whitening session at our office. Professional whitening products are stronger, so they can remove the deep stains from your smile better and faster than the stuff you'll find at the store.
Give Yourself a Smile Makeover
Maybe you want to do more than one of the things we mentioned above. You could have a gap in your smile and yellow teeth. You might have chipped teeth and teeth that aren't quite as straight as you would like.
There is a service that may be able to correct those issues at the same time. Dental veneers can give you a complete smile makeover in a matter of a few weeks. Veneers are for your teeth what a new facade is for a building.
When veneers are placed on your teeth, they can completely transform your smile.
Want to Look Your Best?
If so, then you should contact us online or call (209) 575-2400. Request a consultation with one of our dentists. We'll listen to what you want to change, examine your mouth, and offer some suggestions on how you can achieve your smile goals.
You can have the smile of your dreams, and Sierra Dental Care can help make it a reality.