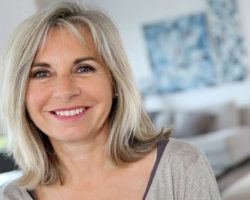 Something is different about your smile, but not in a good way.
Do you have a broken tooth? Is one of your teeth dark or discolored?
Do you have a missing tooth or a tooth that should be removed?
All of these could be reasons to get a dental crown. To find out if you could use one, call (209) 575-2400 or fill out our online form to request an appointment at our dentist office in Modesto, CA.
Our team at Sierra Dental Group can help determine if a dental crown or another of our restorative services can bring back or improve your smile as well as the function of your tooth.
What Is Dental Crown?
A dental crown is a replacement for the natural crown of your tooth. You probably already know that the crown is the part of the tooth that you can see.
This is also the part of the tooth used to bite or chew your food.
Modern dental crowns are made of ceramic materials that can be shaded to match the color of your natural teeth and shaped to look so similar that most people won't be able to tell the difference.
Dental crowns can restore, and in some cases improve, the appearance of your smile. They also allow you to continue biting and chew like you do with a natural tooth.
With this in mind, let's discuss why you might want to call 209-846-3961 to talk to someone at Sierra Dental Care about getting a dental crown.
6 Reasons You May Want A Dental Crown
➤ 1. You have a cracked tooth.
All it takes is one bite of something you didn't expect. An unpopped kernel of popcorn or the pit of an olive can cause you a tooth to open in a way that is both painful and increases your risk of a tooth infection.
If this happens, contact our office as soon as you are able. We can handle the immediate problem, and then help you get a dental crown to fix and protect your tooth.
➤ 2. You have a cavity.
More than 90 percent of American adults will have at least one cavity during their lives. If you act quickly, we can often fix this with a dental filling.
If you wait and the cavity grows larger, however, then a dental crown may be the only solution. By removing the decayed parts of your teeth, we also will form an abutment to hold your dental crown in place.
➤ 3. You have a broken tooth.
If a game of catch with your son or daughter goes badly, you could miss the ball and end up with a sore lip and a broken tooth to go with it.
In this situation, you should try to get to our dentist office in Modesto, CA, as soon as you can for help. With a dental crown, your "tooth" can be as good as new.
➤ 4. You have an infected tooth.
A tooth infection can lead to a toothache and increased sensitivity to hot, cold, and sweet foods and drinks. A dental crown can be part of the restorative dentistry used to deal with the infection.
As part of root canal treatment, we can remove the infection from inside your tooth, fill the tooth with a special material, and then seal it with a dental crown. This way your tooth will look and function as well or better than it always has.
➤ 5. You have discolored or misshapen tooth.
A discolored tooth can stand out in your smile, but not for the reasons you want. A misshapen or undersized tooth can cause the same concern.
By getting a dental crown, this tooth can match the color, shape, and size of the rest of your smile.
➤ 6. You are missing a tooth.
Losing a tooth isn't as common as getting a cavity, but statistically, many Americans will lose one or more teeth. A dental crown by itself won't be enough to replace what's missing.
However, you can restore the look and function of your missing tooth with a dental implant and a dental crown. The implant replaces the root and provides support for your dental crown.
Talk To Us To Find Out How We Can Help
A dental crown or another kind of restorative dentistry can preserve and protect your smile.
To learn more, schedule a consultation with our dentists in Modesto, CA. You can request an appointment online, or you can call 209-846-3961 to reach Sierra Dental Care.