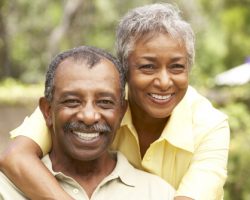 Tooth loss is an all-too-common problem. Thankfully, it's one that can be fixed with the help of dentures.
As we'll explain, modern dentures are much better than previous teeth replacement options. Sierra Dental Care can help you get a set of comfortable, natural-looking dentures so you or someone you care about can keep smiling for many years to come.
Call (209) 575-2400 today to schedule a consultation with one of our dentists in Modesto, CA. For your convenience, we are open six days per week, including until 9 p.m. Monday through Wednesday and from 8 a.m. to 4:30 p.m. on Saturday.
In 700 B.C. in what is now northern Italy, the Etruscans used human and animal teeth to create dentures. The problem with using teeth that had been removed from other the deceased is that they did not last very long.
In the 1700s, ivory was frequently carved into the shape of teeth to form dentures as well. The ivory could come from elephant, hippopotamus, and walrus tusks. Contrary to common belief, George Washington's dentures were not made of wood. He had a plate carved from ivory and filled with human, horse, and donkey teeth.
In the latter half of the 18th century, the first porcelain dentures were developed. They looked whiter than natural teeth, and they chipped easily, making them less than ideal teeth replacements.
In time, people developed new plates — made of gold and a hardened rubber called Vulcanite — to support porcelain "teeth." As we moved closer to our modern times, newer, stronger, and more lifelike materials were developed making dentures both more natural-looking and more durable.
Custom-made Dentures to Fit Your Needs …
When patients with missing teeth, many of them are worried that we will be critical. This is often because of a previous experience in which another dentist blamed them for what happened to their teeth.
That's not what you will get at our practice. We understand that people don't lose their teeth on purpose. Your tooth loss may be a result of past habits or an accident. The most important thing for us is helping you find the right dentures for you.
Our focus is providing dental care, with an emphasis on caring for you and your needs.
Our team of dental professionals will thoroughly examine your mouth and jaw and take X-rays. Then we'll discuss what kind of dentures would be right for you and your needs. Do you want dentures that restore your smile? Make it easier for you to speak? Allow you to eat anything you want?
Depending on your answers, we can advise you whether you may want implants to support your dentures.
All our dentures are attached to a polymer base, so they look like real teeth while they are in your mouth. They are molded to fit snugly and comfortably as well.
… And Your Budget
We understand that getting implant-supported dentures, traditional dentures, or partial dentures is a big decision. We also understand that you may have questions about the cost.
This is why we offer a variety of payment options for our patients. Through CareCredit or our in-house financing, we can help you find a way to get dentures that fit in your budget as well.
Keeping You Happy
When a patient comes to Sierra Dental Care looking for a new set of "teeth," our team is going to do everything we can to help. That means designing dentures that fit well and meet the needs of that particular patient.
Please contact us online or call (209) 575-2400 if you or someone you love is interested in dentures or other restorative options. We want you to keep smiling now and for decades to come.