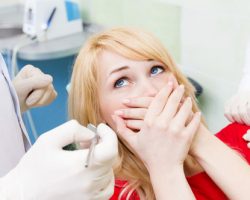 Dental anxiety affects as many as 1 in 5 people in the United States. This can make receiving dental care difficult for many people.
We understand this at Sierra Dental Care. It's also why we make a special effort to help patients who suffer from anxiety. Our staff wants you to feel relaxed and comfortable, and it's why we invested in ways to make your dental experience better, such as our massaging chairs.
But we also know that some patients need more than a compassionate person and a comfortable chair to relax. It's why we offer sedation dentistry as well. Nitrous oxide (laughing gas) is always an option, and we plan to offer stronger sedation options in the near future.
To find out if dental sedation may be right for you, answer a few questions below or, better yet, contact our dentist office in Modesto, CA. You can call (209) 575-2400 or contact us online.