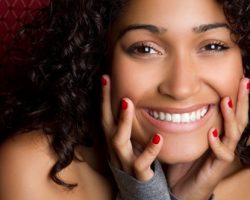 Christmas is less than two weeks away, and a new year — 2018 — isn't far behind.
We hope you will be able to enjoy time with your family and friends during the holidays. We hope your days will be filled with laughter and smiles, too.
Yet, we know that some of you will resist or actively fight against those smiles. It's not because you aren't having a good time or that you don't want to spend time with your loved ones.
It's because you don't like your smile. We want to help change that. Dental veneers or one of our other cosmetic services could help you feel better about your smile next year and for several years to come.
If you live in or near Modesto, CA, please call us (209) 575-2400 or contact us online. Set up a consultation with one of our dentists at Sierra Dental Care to learn how we could give you a reason to smile again.
Are Dental Veneers Right For You?
Whether you want to change the appearance of a single tooth or your entire smile, you should learn whether dental veneers could help you feel merrier.
Veneers may be the most versatile cosmetic service that we offer. With veneers you can:
▹ Repair chipped or broken teeth
▹ Close gaps between teeth
▹ Restore worn-down teeth
▹ Make yellow teeth look white and bright
▹ Make crooked teeth look straight
Now, you may be dealing with one or more of those issues. If so, veneers might be the perfect option to give you the evenly-spaced, straight, and white smile you've always wanted.
Veneers can completely transform your smile in a matter of a few weeks. They are durable, too, which can help you maintain your smile for decades.
Depending on the kind of veneers you choose, we may need to remove a thin layer of enamel from your teeth. We then make an impression, which will help the lab create set of veneers that fit your smile.
When your veneers are ready (usually in a matter of weeks), you will return to our office to have them bonded in place. Many people smile bigger than we've ever seen them smile when they see their veneers on their teeth for the first time.
If you think veneers could help you, too, then call us today to talk to one of our dentists.
Other Kinds Of Cosmetic Dentistry
Dental veneers are amazing, and we have seen the amazing things they have done for many of our patients. But veneers are not the only option you have if you want to make a change to your smile.
At Sierra Dental Care, we offer a range of services that could help you. These include:
Crown Lengthening
If you have a "gummy" smile, crown lengthening or gum reshaping could be the right solution. By removing some of your gum tissue, you can reveal more of your teeth and start feeling more comfortable about sharing your smile.
Dental Bonding
Bonding can help with many of the same issues as dental veneers. By applying a composite resin, we can rebuild a broken tooth, fix a cracked tooth, or get rid of the space between teeth. After the resin is applied, it can be hardened and polished to look like a natural part of your smile.
Orthodontic Care
Whether you get braces or a more discreet option like Invisalign®, you can make a lot of changes to your smile. By applying the right kind of pressure, you can give yourself a straight smile with evenly spaced teeth. You also can fix overbites, underbites, crossbites, and open bites. How long the treatment takes will vary depending on your particular issues
Teeth Whitening
This may be the most popular cosmetic service in the United States. Everyone's teeth develop stains naturally as we get older. The more coffee and tea we drink and the more food we eat all contribute to those stains. Professional teeth whitening can remove years and even decades worth of stains faster, safer, and more effectively than over-the-counter whitening products.
Tooth Contouring
If you have teeth that are misshapen in some way, tooth contouring is a process we could use to reshape them so they fit in better with the rest of your smile.
Give Yourself The Gift Of A Great Smile
If you want to make a change to your smile in 2018, our team at Sierra Dental Care can work with you to make that happen. Start by contacting us online or calling (209) 575-2400 to request your consultation.