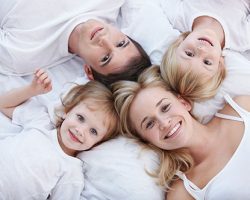 We love kids! It makes us happy when children visit our Modesto, CA dental practice, and pediatric dentistry is a huge part of our family care.
With the upcoming winter break from school, now would be a great time to schedule a dental appointment for your little ones. This way you can feel good about keeping their smiles healthy, and they won't miss any time away from classes.
At Sierra Dental Care, we welcome families. We want to make dental care as convenient as it can be for you and your loved ones.
Call us today (209) 575-2400 to schedule your next appointment with us.
Come Where You Feel Comfortable
Healthy smiles don't just happen. They do require some effort, and you can start developing that habit before your children get their permanent teeth.
At our office, our team will be happy to answer questions and to demonstrate how to brush and floss. During your visits, we take a gentle approach to dental care. We want you and your kids to be as pain-free as possible. It's why we offer inhaled sedation (laughing gas) as an option.
It's why we hired a team of people who love kids!
Our office is conveniently located near several schools in Modesto, and we offer extended hours so you can make your family's appointments after school or work. We also have Saturday hours. And we are happy to work with you to schedule your families' appointments around the same to save you multiple trips.
Plus, your kids will get a treat from our treasure box at the end of their appointment.
Our hope is to help your kids have healthy smiles for a lifetime and to create happy memories of their visits, so they don't feel anxious about getting dental care as they grow older.
Getting Off on the Right Foot
We want your kids to see our dentist office as a place where people care about them. We also want your kids to look forward to visiting us.
With that in mind, we understand that any child's first dental visit is an important milestone in their lives.
We would encourage you to schedule a dental exam for your son or daughter around their third birthday. During this visit, we'll check their teeth and gums for any signs of problems and introduce them to the idea of dental checkups.
We'll also discuss oral health habits with them and make recommendations, if needed, to improve their oral health.
You can make this first visit easier by doing a few things. First, talk to your child about what we do at the dentist office. Knowing what to expect can reduce their nervousness. Second, teach your children to brush and floss daily. This reduces the chances of finding tooth decay or gum infections.
And third, bring your kids with you to your own appointment. By seeing your example, they may even look forward to their own appointment. This also gives them the opportunity to meet our team before their official visit.
See Us Soon
We hope you and your children will visit our Modesto, CA dental practice soon. You can request your appointments online or call Sierra Dental Care at (209) 575-2400.