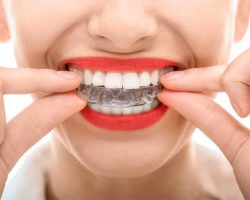 Braces have been a standard part of orthodontic care for decades for a simple reason. Braces work. They will move your teeth where they should be to create a straight smile.
But for some patients, just the thought of wearing braces is difficult. It's why we also offer Invisalign® clear aligners at our dentist office in Modesto, CA.
Like braces, Invisalign can straighten your teeth, fix overbites, and close gaps in your smile. The difference is that people may not realize you are wearing Invisalign aligners during your treatment.
Contact Sierra Dental Care for a consultation with one of our dentists. Find out if you are a good candidate for Invisalign. You can contact us online or by calling (209) 575-2400.