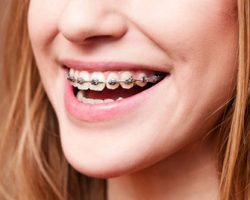 Your son or daughter is old enough now. They are going through a lot of changes. It's time you had a talk.
It's time you spoke with your child about getting braces.
If you, your spouse, or both of you went through orthodontic care when you were younger, then
there is a good chance that your children will need treatment, too. If you live in or near Modesto, CA, our team at Sierra Dental Care will be happy to help you.
Your son or daughter will probably understand why he or she needs braces, but that won't necessarily make him or her feel comfortable about wearing them.
Scheduling a consultation with one of our dentists may help your son or daughter prepare for what they can expect. To request an appointment, call (209) 575-2400 or contact us online.
Focus On The Big Picture
Orthodontic care has two big benefits.
The first — and the one that most people focus on — is creating a nicer smile. When people have straight, evenly spaced teeth, they feel more confident, and that affects how they are perceived by others. Surveys have revealed that people with nice smiles are often considered friendly, more trustworthy, and more successful.
The second big benefit is one that we really appreciate as dentists. When your teeth are aligned well, it makes it easier to keep your mouth healthy.
Brushing your teeth is more effective when your teeth don't overlap one another. Flossing is able to do more when your teeth aren't crowded together. Your teen certainly still needs to brush and floss daily, but those small steps will do more to fight tooth decay and gum disease when his or her teeth have been straightened.
Nevertheless, getting braces is a big decision for you and your child, but keeping your focus on the long-term goal could help make the treatment easier.
Be Honest About What They Can Expect
We wish we could tell you that wearing braces is a pain-free experience. We wish we could tell you that no one will ever say anything about your teen having braces on his or her teeth.
We can say that the technology used in braces continues to improve, so today's braces probably won't be as bad as what you may have experienced growing up.
Having braces is also a responsibility. Your teen will need to understand that he or she will need to pay attention to what he or she eats, and he or she will need to maintain good oral hygiene throughout the treatment to get the full benefits when the braces finally come off.
Braces May Not Be Your Only Option
If you are concerned that your son or daughter may have a hard time with the emotional effects of wearing braces, then you may want to ask about Invisalign® as well.
Invisalign was originally developed for adults who were interested in straighter teeth but were not interested in wearing braces. Today, Invisalign has been proven to work well for many teens, too.
This system uses transparent aligners rather than brackets and wires to move teeth. Since the aligners are clear, they tend to blend in with your smile when they are being worn.
Invisalign won't work for everyone, but it can and does work for many people.
Plan Your Visit
If your son or daughter is ready for orthodontic care, the first step is scheduling a consultation with one of our dentists at Sierra Dental Care. We discuss what changes can be made and what options will help create the smile your teen wants to have.
To request an appointment, fill out our online contact form or call us at (209) 575-2400.