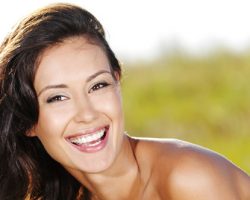 Spring is here, and to us, that's just another reason to smile.
Lots of people do spring cleaning around the house. It's the perfect time to get rid of some of the junk you've got lying around the house to make it look nicer.
So, why not do the same thing for your mouth? Get rid of the plaque and tartar buildup, and while you're at Sierra Dental Care, you can improve your smile at the same time.
If you're looking for a cosmetic dentist near Modesto, CA, we're here and we're happy to help. Call (209) 575-2400 to learn what we can do for your smile!
Create Your Perfect Smile
When you look at your smile in the mirror, what do you want to change?
Maybe your teeth aren't quite as white and bright as you would like them to be. Maybe you wish you smile was a little straighter.
Or maybe you need to fix a few chips in your teeth. (Hey, it happens to the best of us.)
In addition to our comprehensive family and general dentistry, we offer some amazing cosmetic services so you can have the smile of your dreams!
Here are a few ways you can change your smile:
Invisalign®
As an adult, you may (1) wish you had straighter teeth and (2) have no desire to wear braces. We understand, which is why we have an alternative to traditional braces.
Invisalign uses clear, plastic aligners to gently and gradually change the position of your teeth so you can have the straight smile that you want. The aligners are custom-designed just for you. Since they are transparent, most people won't know that you are wearing them.
Many patients tell us that Invisalign is a more convenient option than traditional braces, too. Since you can remove your aligners during meals, you don't have to give up any of your favorite foods during your treatment.
Professional Teeth Whitening
Yes, there is a difference between professional whitening products and the commercial products you can find in the toothpaste aisle.
Professional whitening products are stronger, which means they can remove more stains in less time. Think of it like the difference between using a pressure washer and a garden hose to clean dirt off the side of your house. Both will do something, but one will do the job noticeably better.
Plus, with professional whitening, you are under the supervision of a dental professional, which reduces your risk of overuse or gum irritation.
Dental Veneers
Veneers are one of our most popular cosmetic services because they can be used to correct a variety of issues.
If you have yellow teeth, veneers can give you back your beautiful bright smile.
If you have gaps between your teeth, veneers can make that space disappear.
If you have chipped or broken teeth, veneers can rebuild your teeth to their original shape and size.
And veneers can be a simple solution if you need to fix multiple problems at the same time.
Veneers are specially made to fit over the front of your teeth. This way they conceal your problems while giving you the appearance of a perfect smile.
Find the Right Treatment for You!
These are just a few of the ways we can help you transform your teeth so you'll want to smile more.
Dental bonding is another option for repairing chipped teeth. We do offer braces if you aren't a good candidate for Invisalign. We also offer teeth contouring and crowning lengthening if you want to change the shape of your teeth or redefine the edge of your gumline.
Our team has changed countless smile in and around Modesto, and we would love the opportunity to talk to you about how we could help you feel better about your teeth.
To request an appointment, call (209) 575-2400 or contact us online. This could be your first step toward a brand-new smile!